BMC Guitar Effects Lithium Overdrive
The lithium overdrive is the lastest pedal offering from BMC Guitar Effects. This pedal offers you a range of overdrive/distortion options targeted at the player who is looking for a medium to medium-high gain tone solution.

This pedal (like LOTS of others) started its life as a Ibanez Tube Screamer clone but that wasnt good enough for me. I wanted more options and a wider control of the bottom end produced in the circuit. The Lithium overdrive has four controls, Volume, Tone, Body and Drive. Each controls a different aspect of the tone shaping and distortion of the circuit.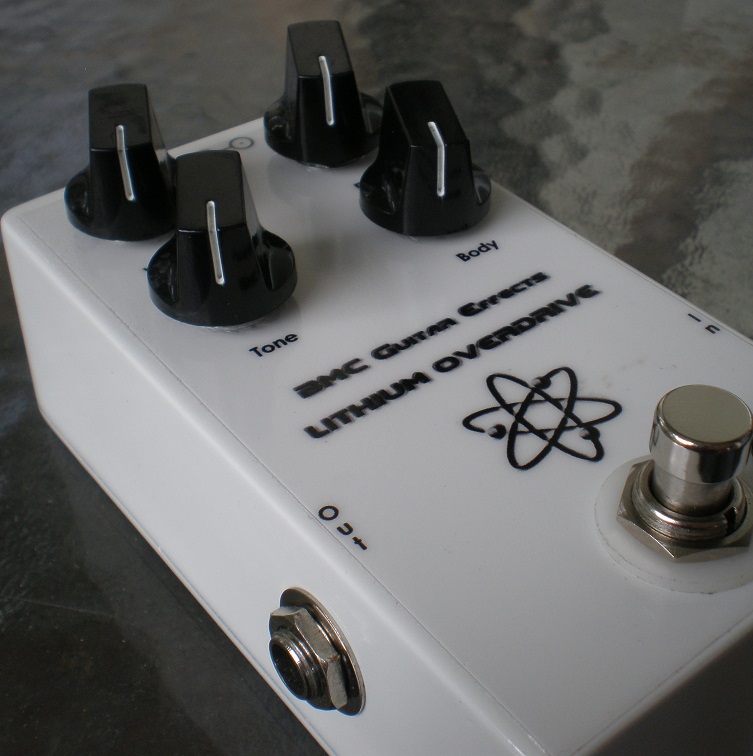 Click here to see more pedal shots and the prototype boards built during development
How the pedal works
When the pedal is engaged, the signal goes into a standard jfet buffer circuit. The signal is then passed to an interchangable TL072 opamp that overdrives the signal just like a Tube Screamer or a Boss Overdrive pedal. During the overdrive stage, the BODY control acts as a high pass filter on the feedback loop. This allows you to govern how much bottom end is produced by the overdrive and adds extra fullness to the overdrive tone.

Turn it up and you get more bottom end in your overdrive, turn it down you get a tighter, controlled overdrive tone. The DRIVE control also effects this same opamp part of the circuit. After the signal leaves the drive stage, it goes to the VOLUME and TONE controls. The Volume does what it says on the tin and the TONE control is a light LOW PASS filter on the end of the signal before the signal is passed back out to the output jack.
Photographs
Check out the design and build process here http://bmcguitar.com.au/g/thumbnails.php?album=15
Features
Full True bypass
Heavy duty 3pdt mechanical footswitch
Uses 9v DC Negative tip boss style adapters. All BMC Guitar Effects pedals have NO battery adapter
Volume controls the amount of boost and overdrive volume
Drive sets the amount of overdrive
Tone is a high pass filter that controls the amount of treble of the pedal output
Body is a low pass filter that sets the amount of bottom end that is output
Allows transparent clean signal boosting with the drive control set to its lowest setting
ORDERING
The Price is $200 Australian Dollars including delivery.
All pedals are built to order and a general pedal build takes about a week or so to complete.
Lithium Overdrive Artists
* I use this pedal currently as part of my rig for my Progressive Fusion/ Jazz-Metal band, The Cilikis
Audio Demonstration
This is the first audio demonstration of the pedal. Recorded using an Ibanez RG560 into an Orange Dual Terror amp with a 1x12 cabinet and a Sennheiser E609 microphone. More audio demonstrations will come soon but like many people, sometimes time is
not on our side.
YouTube!